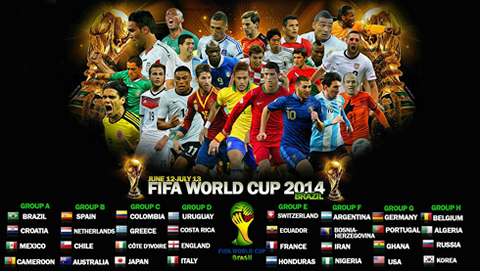 It's started!!!! yeay!!! and this time, it's in Brazil.. the football nation.. haha.. the very infamous nation with legendary player such as Pele, Ronaldo, Ronaldinho, Kaka, etc.. Can't wait to see a new Brazil legend born this year world cup.. when everyone say it's Neymar, I say, it's OSCAR~~~ haha.. and, he proves me right on the opening match.. everyone who watched the match should agree with me.. OSCAR deserves the credit for the Brazil victory tonight.. he's the playmaker of the night.. he assisted Neymar goal, and, score himself..yeay!!!
Enough about that, I can't wait to watch my favorite team, DEUTSCHLAND..they've been favorite to win the title for like every edition.. but, they always ended up losing in the semi-final, and win the third place.. this year, I hope, the team will win.. they've got the best squad.. with one of the best goalkeeper in the world Neuer, with the best defender Lahm who loves to play overlapping very much.. they've got my forever favorite midfielder, Schweinsteiger, and the best midfielder Ozil.. their forwards are simply the world best, Muller with either Podolski or my favorite player of all time, Klose.. and, they got Chelsea gem, Schurle who I believe will shine in this world cup edition..they've got everything to be the champion this year.. I just hope, they'll be a bit lucky this year.. as their supporter since years ago, I can see Deutschland always lack in the luck.. they always lose not because they're not good, technically, and on paper, they are the best.. but, they are just, unlucky..
I also love Japan.. haha.. they are my favorite underdog.. not Korea, its Japan.. and, I believe they can somehow make surprise this year.. as their woman team won World Cup few years back, I think, Japan can at least make their way to quater final, perhaps? they are one developing nation in term of sports.. they won Thomas Cup, beating China in semi and Malaysia in final.. they somehow manage to get their hands on the continents' powerhouse of hockey which previously only got India, Pakistan and Malaysia.. And, I do believe, this time around, they can make surprise.. by looking at their squad, of course one will say they'll be beaten easily.. but, remember, Japan is famous with their Samurai and Ninja spirit.. that's their greatest weapon ever.. the never give up spirit like no other.. only Japanese got that..
And, other team, I don't have any other favorite.. but, I do support every Chelsea player in the competition.. haha.. which means, I support Mata (even though he left Chelsea already) and Torres for Spain.. Oscar, Ramires, Willian and Luiz in Brazil.. I support Hazard for Belgium.. and I support Lampard and Cahill for England.. I'm not supporting their team.. but, I simply support them only.. haha.. other players that I like to watch are David Silva, Xabi Alonso and Samir Nasri..haha..
The football fever is arrive.. luckily the UK time, is only four hours different from the Brazilian time.. unlike in Malaysia, I don't have to stay up till late night or wake up before dawn just to watch the match.. haha.. by the way, I predict either Deutschland or Spain will win the title.. how about you guys?