Europe. I'm sure many of us do list it as one of the places to go before we die. We dreamt to go to Europe for various reasons. From their history, culture to locals. We sure love everything about Europe. Why? Is Europe that majestic that we MUST go there? The answer is, Yes! They are majestic! Here, I'd like to share 5 reasons why I do love travelling in Europe.
1. They are MAJESTIC!
The one and only Majestic Edinburgh
Old town. Old town. Old town. Everywhere! Growing up in Malaysia, we know, there's no way we can ever see the Gothic or Georgian architecture from our window. We do have like few old town here and there, but nothing can beat Europe. Seriously! I really love strolling through old Gothic-inspired shophouses. And, from a far, I can see the grand palace or castle where their nation began centuries ago. Majestic. Nuff said.
The Infamous Rival of Edinburgh - Majestic Prague
2. It never hurts to walk for kilometers
Cold. Yes. It's winter. In Istanbul.
As I mentioned previously, I really love to walk through the town. And guess what? It's cobblestones we walking on! Tiring? Actually no as we'll spend most of our time enjoying the scenery here and there. And, the nice weather actually helps. Not on rainy or windy day though. You'll freeze!
3. You will be accompanied by the sound of music
Photos. Photos. Photos. The best momento. Don't be shy to take a photo with them. They're super nice.
It's like, everywhere you go, you'll hear music. Everywhere! I especially love the bagpipe music as I walk in Edinburgh. It'll be better when there's shower. God, that's simply awesome! Where on Earth you can experience this? Only in Europe, I tell you. They value their culture so much. And, they know we, tourist, wanted that! No need to spend £20++ to the concert or what not. Just walk through the town, and the concert will be played by itself.
If you're lucky, you'll be greeted by this (I was in Edinburgh when they doing the Drumhead Service)
3. Postcards. Calendar. Picturesque. Even the alleys will amaze you
Haunted-house? No, it's the Weirdly-Unique Hundertwasser in the World Most Livable City, Vienna
I always awe by European architecture. I can spend an hour just to look at a building, from it's structure to small tiniest details such as sculptures and column heads. It just, mesmerizing! You just can't help yourself to snap a picture of every single corner of it. Everything that you see, is simply, beautiful.
Small Village I Encounter During a from Chur to St. Moritz - Part of the route is the UNESCO-recognized Narrow-Gauge
I took a train ride throughout Switzerland before. I just can't close my eyes for a second, as I don't want to miss anything! The journey feels short as I spend all my time awing the jaw-dropped natural landscape here and there.
One of the alleys I found in Europe - This one is in Cordoba, around the Cathedral-Mezquita
I don't know about others. But for me, apart from the old buildings here and there, what attracts me the most is the small alleys that actually can get me lost sometimes. It makes me feel like I live in the fairytale world that I saw in Disney before. haha. The best alley I saw is in Prague. Walking down from the Prague Castle to the Charles Bridge, lies the narrowest alleys of the town, equipped with traffic light. Interesting right?
5. The most efficient public transportation ever
The Popular Double-Decker Bus
Enough with walking, European cities are also well known for their efficient transportation system. They are super punctual! If the bus or metro is scheduled to arrived in 2 minutes, yes, it'll arrived in 2 minutes. And, we can actually go anywhere with great fare. Most tourist will take the day ticket as we can travel as much as we like in a day. It is super cheap too. In Edinburgh for example, it'll costs us £3.50 for the day ticket (£1.50 for single trip) and we can take tram or bus to anywhere we like throughout the city. In addition, some of the city do have an option of 3 days ticket apart from the 1 day. For example, in Rome we can travel for 3 days using any public transport for only €16.50 (€1.50 for single trip and €6 for 1 day). Cheap right? And, the most efficient means of transportation that we can take especially if we want to travel throughout Europe is train. Yes, they are very reliable! I'll write something about travelling in Europe by train later. Nevertheless, I always enjoy riding tube in London, buses in Edinburgh, metro in Paris and Rome, trams in Lisbon, Stockholm and Oslo, etc. You'll never get lost in your way as the routes map is clear, and the stations are always near to places you want to go. And, there's always a route that specially made for tourist, seriously. By the way, some places allow the tourist to take their historic transports such as in Lisbon. I rode the old tram that goes from the city centre to the historical suburbs. Spectacular!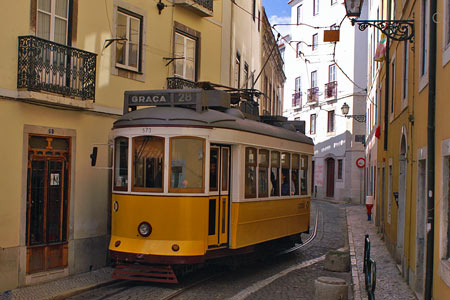 Actually, I've plenty more reasons. Not only five. But, these five are the most relatable to others, I think.